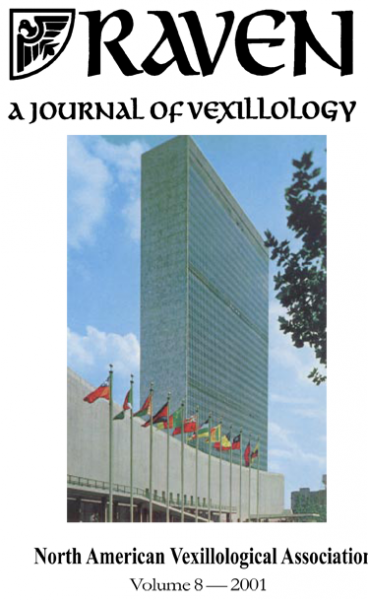 Available: out of print, online only (links below)
Raven continues its tradition of publishing outstanding articles in the field of flags. This year's volume presents five papers aimed above the study of individual flags, focused instead on flag design and usage.
---
Confronting Tradition and Whim: The Design of United States Civic Flags
John M. Purcell, former president of the Association and Professor Emeritus at Cleveland State University—Cleveland, Ohio
Tracing the vexillographic history of municipal flags in the United States, the author identifies the sources of poor design and calls on NAVA to establish a formal body to assist cities and others in creating or replacing flags.
---
Good Flag, Bad Flag and the Great NAVA Flag Survey of 2001
Edward B. Kaye, managing editor of Raven—Portland, Oregon
The Association's flag survey put the word "vexillology" on the lips of many people, as it publicized the best and the worst in state and provincial flag design. Good Flag, Bad Flag is part of the solution, condensing the best thinking on flag design into five basic principles in a short, usable format. Learn how the Association's website jumped from 100,000 hits per month to 100,000 hits per day.
---
Flags Granted by the Canadian Heraldic Authority:  An Analytical Profile
Auguste Vachon, Outaouais Herald Emeritus, Canadian Heraldic Authority—Hull, Québec
Inventorying all 214 flag grants by the Canadian Heraldic Authority though 1998, the former Saint-Laurent Herald and Registrar analyzes their design styles and recipients. He finds that banners of arms predominate, followed by ensign types and Canadian pales, and that municipalities have received more flag grants than have corporations, institutions, or individuals.
---
The Michigan Flags Project:  An Introduction to the Vexillology of Michigan coupled with a Guide to Research in these United States
Kevin Harrington, president of the Canadian Flag Association and editor of Flagscan—Scarborough, Ontario
In an experiment to test vexillological finding aids and to locate access thresholds, the author (a former teacher and librarian) identifies seven steps to research at the state level using the cities of his southern neighbor, Michigan, as an example. This paper won the Driver Award at the Association' annual meeting in 2000.
---
United Nations Flags and Poles
Gustavo Tracchia, Neubecker Laureate of the Centro Interdisciplinario de Estudios Culturales—Kew Gardens, New York
As the United Nations has grown from 60 members in 1952 to 189 today, its headquarters in New York has constantly expanded and rearranged the poles displaying member flags. The challenges and solutions presented during this growth are documented extensively.
---
Edward B. Kaye, Managing Editor
Editorial Board:
Scot M. Guenter, San José State University
Anne M. Platoff, Arizona State University
John M. Purcell, Cleveland State University (emeritus)