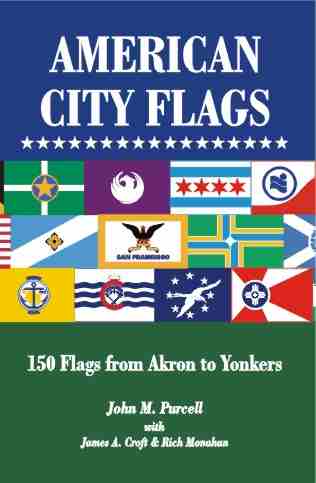 Available: in print, online (links below)
American City Flags by John M. Purcell with James A. Croft and Rich Monahan
Raven 9/10, covering 2002 and 2003, appears as a special double issue, American City Flags. This milestone vexillological work contains 150 articles dedicated to descriptions and histories of municipal flags of the United States. The cities represented include the largest 100 cities in the country, at least two cities per state, and all state capitals.
This double volume parallels the landmark 1996-1997 double issue Flags of the Native Peoples of the United States. Dr. Purcell was awarded the coveted Vexillon by the Fédération internationale des associations veillologiques in 2005 for the most important contribution to world vexillology in the previous two years. The companion volume Canadian City Flags was published in 2012.
With 400 text pages, grayscale illustrations throughout, and 16 color plates, the softcover book represents the culmination of 40 years of research by John Purcell.
A wonderful panoply of civic symbolism…this book tells the story of our nation's city flags in an engaging style backed by sound scholarship…the first such effort since 1915. —Dr. Whitney Smith, Executive Director of the Flag Research Center.
For purchasing information, visit the Association Shop.
Edward B. Kaye, Managing Editor
David B. Martucci, Art Editor
Editorial Board:
Scot M. Guenter, San José State University
Anne M. Platoff, University of California, Santa Barbara
John M. Purcell, Cleveland State University (emeritus)